Top Story
Long before President Donald Trump turned up the heat on four Democratic congresswomen of color, saying they should "go back" to their home countries, hateful rhetoric an...
Virgin Galactic's Richard Branson said Thursday his spaceship has just a few more test flights before he jumps on board for the first tourist trip.
A dramatic slowdown in worldwide growth at Netflix — including the first quarterly drop in its U.S. subscribers since 2011 — is raising questions about just how much are people willing to pay for streaming services.
Critics complain that the home video security systems turn neighborhoods into places of constant surveillance and create suspicion that falls heavier on minorities.
Activists have fought the Thirty Meter Telescope in the courts and on the streets for years, but the latest protest could be their final stand as they run out of legal options.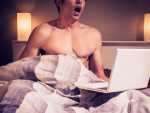 You might think that using "incognito" mode is a good way to secure a little privacy while seeing what's new in porn online, but that's not necessarily the case, a new study reveals.