1 thru 10 of 2404 Stories
The "lord," as in Scott Disick, is spinning off and flipping out of the Kardashian family bubble with his own E! show.
The American Society for the Prevention of Cruelty to Animals has reported a more than 700 percent increase in calls related to marijuana to its poison center in 2019.
Potheads have for decades celebrated their love of marijuana on April 20, but the once counter-culture celebration that was all about getting stoned now is so mainstream Corporate America is starting to embrace it.
Toothpaste delivered in two days is convenient, but not so great for the environment.
Sequential Brands Group, which bought the Martha Stewart brand nearly four years ago for about $353 million, said Tuesday that it is selling it to Marquee Brands for about $175 million.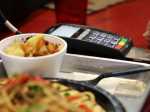 Cash-free stores are generating a backlash among some activists and liberal-leaning policymakers who say the practice discriminates against people who either lack bank accounts or rely on cash for many transactions.
It's a great time to be a landlord in America, not so much if you're a renter.
A New Jersey woman who used garden shears to destroy her neighbor's racy Easter display has been charged with criminal mischief.
Surprise your guests, family and friends with these amazing easter eggs.
The latest battle in the war between government rules and property rights is playing out in a posh San Francisco suburb, where a retired publishing mogul has installed an elaborate homage to "The Flintstones" family.
1 thru 10 of 2404 Stories