The subscription shaving service Harry's released a new ad last week featuring a number of men shaving, including a transgender man.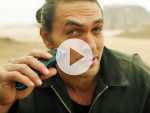 "Aquaman" is clean-shaven.
Are you ready for a spring refresh? Several skincare treatments are being touted as the next big thing, but do they really work? We asked a board-certified plastic surgeon to find out.
There is very little science behind most of the health claims made for CBD, the cannabis product turning up in cosmetics, foods and dietary supplements.
Spring cleaning goes beyond the wardrobe. It's also time to update the grooming cabinet! Check out these seven curated picks.
CBD oil-infused gummy bears, lattes and other food, drinks and dietary supplements are selling quickly even though the U.S. government says they're illegal and local authorities have forced some retailers to pull products.
When is the last time that you put any considerable amount of thought into your product choices? Hair can make or break a first impression. If you've been feeling like you should up your hair game, consider these eight picks.
Kiehl's new "Made Better" brand platform, which launched last year, has partnered with John Legend to help spread the word about their sustainability efforts.
A new survey examining style trends determined that 66 percent of Americans have a cringeworthy look or fashion regret from their past that they can't bear to think about.
Makeup artist and YouTube star James Charles is no stranger to controversy and Twitter is dragging him over his latest video in which he uses the slang term "the house."