Putting on Your Best Face: Stryx Rethinks Men's Cosmetics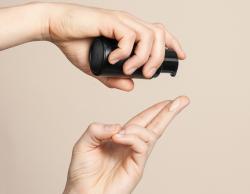 If you think you're one of the few guys that's investing more time into your grooming routine, think again. According to a report by Allied Market Research, the global men's personal care market will generate an astounding $166 billion by 2022. But not all men's products are created equal. Enter Stryx, a new line of men's cosmetic products that's re-engineered how men can look their best.

Co-founders Devir Kahan, Joe Lieberman and Isaac Rami started at ground zero to manufacture and design a product line that served men's needs with new formulations and functionality that goes far beyond marketing the same old product to a new demographic.

The trio founded the company in 2017, and it took more than two years of resilient perfectionism to turn the idea into a reality.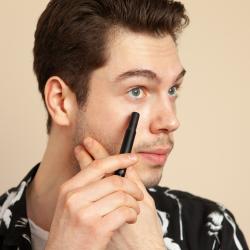 Stryx's phase one rollout includes two essential products suitable for every guy on the go: a concealer tool and tinted moisturizer.

The concealer tool (aka Product 01) is perfect for redness, acne, pimples, razor scratched or slight imperfections — basically the wear and tear of life's daily grind. The twist-up pen formulation took months to perfect and the team had to buoy rejections from multiple manufacturers who didn't want to onboard a dramatically new engineering design. But the persistence paid off, and the result is a slick, discreet pen, easily tossed into a dopp kit or gym bag. ($29)

Tinted moisturizer (aka Product 02) is a must to hydrate, energize and fine-tune your skin. This particular formulation specifically targets men's skin, which is thicker and typically has larger pores than our female counterparts. The subtle tint diminishes the appearance of redness and creates an even skin tone. The quickly absorbing moisturizer nourishes while also delivering a no-shine matte finish. ($29)

Stryx has simplified shade options with three choices: light cognac, medium mahogany and dark eclipse. The easy-to-blend colors offer foolproof options for the cosmetically challenged, and the "dynamic" formulation adjusts to your skin tone. Just a small dollop goes a long way, while an extra pump will result in a subtly darker shade when applied.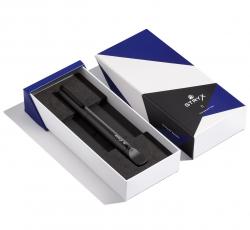 Packaging fanatics will love Stryx's sophisticated design aesthetic. The bold, geometric boxes in black, white and deep cobalt blue offer a contemporary interpretation for the modern man and are all part of the founders' ambitious goal to rethink how the industry approaches men's skincare.

"We're not doing this the way everyone else is," says Kahan. "We haven't taken a female product, put it on a topless guy and now made it for men. Instead, we've created a line that's discreet, sleek, and impeccably produced." What's on the inside is as important as how it looks and performs. From the onset, Stryx has been committed to a 100 percent cruelty-free production process. Leading cosmetic chemists and artists crafted the collection with no animal testing.

And with free shipping and a product guarantee, Stryx appeals to both the savvy as well as the stylish guy.

EDGE readers can take advantage of an exclusive discount offer.
Save 20% on your order with code EDGEMED20
Visit Stryx.com to look your best!



Sponsored content.
Matthew Wexler is EDGE's National Senior Editor of Travel, Lifestyle, Health & Branded Content. More of his writing can be found at
www.wexlerwrites.com
. Follow him on
Twitter
and
Instagram
at @wexlerwrites.
Comments on Facebook