Watch: Twitter Reacts to Makeup Guru James Charles Using Queer Slang 'The House'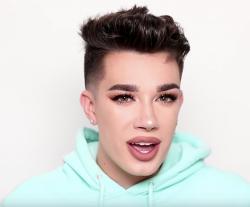 Makeup artist and YouTube star James Charles is no stranger to controversy and Twitter is dragging him over his latest video in which he uses the slang term "the house," as BuzzFeed points out.

In one of his newest videos, which has earned over 8.7 million views since being posted on March 22, Charles did his makeup routine in alphabetical order.

"Today I wrote out my makeup routine and rearranged it into alphabetical order, all while going through our Sister Dictionary with all of my favorite good and fresh words!" he explains. "This was one of the most fun makeup challenges I've ever done, and I hope you enjoy!"

"Sister Dictionary" is the vocabulary and slang words he and his fans use to speak to each other. Things got dicey when Charles got to "T," which he said is for "the house" and "by far one of my favorite things to say right now."

"I heard about it from another YouTuber named Rich Lux," Charles says in his clip. "Basically any time something is very something else, you can say it is 'the house' ... 'The house' is the new best way to put emphasis on anything."

Twitter user @dcagiunta edited the video to that one part and Charles using "the house" in context, tweeting it out by adding, "[LGBT] community I'm so sorry."





The tweet went viral, earning over 22,000 likes and lots of reactions. Many pointed out that the actual phrase isn't simply "the house" but actually "the house down."





Others took issue with Charles giving another YouTuber credit for the phrase, which actually comes from drag culture.





Charles didn't directly responded to the drama but vaguely mentioned in a tweet to his 3.5 million followers.

"Wow I keep forgetting to tweet I'm cancelled," he wrote.





Watch Charles' video below.
Comments on Facebook