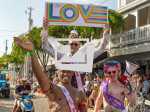 Recognizing the 50th Anniversary of the Stonewall Riots, the Key West Pride Parade traveled down Duval Street to United Street celebrating the LGBTQ community.
People came out to cheer on their favorite LGBTQ groups, non profits and allies who participated in this year's LA Pride parade.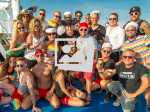 Stoli and the Key West Business Guild sponsored the Key West VIP Pride Sunset Cruise. Check out these fun photos.
A beautiful day and the biggest crowd in history made this year's Boston Pride Parade and Festival one of the biggest events this year in the city.
Boston Pride continued on Sunday with the annual Block Party in the Back Bay. It was a beautiful afternoon to hang out, dance and celebrate Pride. See who was there.
LA celebrated their Pride Festival in West Hollywood with the theme #JustUnite. People enjoyed make overs and a drag show sponsored by MAC Cosmetics, along with various food vendors, a Latin stage, and Meghan Trainor headlining on the main stage.
The LA Pride kick-off party was sponsored by MAC Cosmetics, with makeup makeovers for anyone who wanted one before strutting down the glitter rainbow runway. Todrick Hall & Paula Abdul performed for the enthusiastic crowd.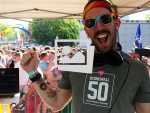 The line stretched down a block to get into the Chandler Street Block Party after the Boston Pride Parade. Check out these great photos.
Life Ball 2019 welcomes celebrities including Alan Cumming, Lea DeLaria, Amanda LePore, Keala Settle and more for Europe's biggest HIV/AIDS fundraiser.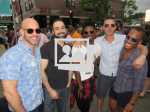 Midsommarfest, the kick off to Chicago's summer neighborhood street festival season, was presented by the Andersonville Chamber of Commerce celebrating old-world Swedish traditions, with international foods, dancing, and great entertainment.