Florida Lawmakers Launch Coordinated Attack on LGBTQ Constituents, Children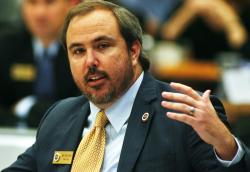 Florida state lawmakers launched a coordinated attack on the state's LGBTQ residents on Jan. 13, filing four bills that target non-heterosexuals and non-cisgender people in the state, reports NBC News.
Some of those bills put children in the crosshairs.
NBC specified that:
If passed, the bills would ban gender-affirming health care for transgender children, repeal municipal and county ordinances protecting LGBTQ workers, and legalize so-called gay conversion therapy in places that had banned the medically debunked practice.
Unsurprisingly, the bills were filed by Republican lawmakers. The officials coordinated their legislative attacks across the state's house and senate alike, noted NBC, with the article identifying the seven officials who filed the bills mere hours before the deadline to introduce new legislation in the current session.
Those lawmakers, NBC reported, are:
Rep. Anthony Sabatini, Sen. Dennis Baxley, Rep. Bob Rommel, Sen. Joe Gruters, Rep Michael Grant, Sen. Keith Perry, and Rep. Byron Donalds...
Fellow lawmakers and advocates alike decried the maneuver.
Openly gay State Rep. Shevrin Jones called out the lawmakers for "wasting tax dollars attacking Florida's most vulnerable communities," and went on to add, "Clearly they've decided that discrimination and hate are central to their election-year platform despite our state's incredible diversity."
Equality Florida's Gina Duncan, meantime, critiqued the way that the lawmakers targeted minors.
"It is outrageous that conservative legislators would threaten their health and safety," Duncan declared in a statement.
Added Duncan:
"Medical professionals, not politicians, should decide what medical care is in the best interest of a patient. Forcing a doctor to deny best-practice medical care and deny support to transgender youth can be life-threatening."
A statement issued by Equality Florida said that "Last-minute bills attacking transgender youth represent the most offensive and direct attack this session."
The Equality Florida statement summarized the four anti-LGBTQ bills:
House Bill 1365 (Rep. Anthony Sabatini) / Senate Bill 1864 (Sen. Dennis Baxley) makes providing best practice medical care to transgender youth a second degree felony.
House Bill 305 (Rep. Bob Rommel) / Senate Bill 1126 (Sen. Joe Gruters) repeals employment protections that currently cover 13 million Floridians. The legislation threatens city and county nondiscrimination ordinances that ensure Floridians aren't discriminated against in employment based on sexual orientation and gender identity. (Scheduled for House Workforce Development & Tourism Subcommittee on January 15, 2020.)
House Bill 3 (Rep. Michael Grant) / Senate Bill 1336 (Sen. Keith Perry) repeals 22 existing local ordinances protecting vulnerable LGBTQ youth from so-called "conversion therapy" that seeks to change a persons sexual orientation or gender identity and bans any local governments from establishing conversion therapy bans in the future. (Scheduled for House Business & Professions Subcommittee on January 15, 2020.)
House Bill 537 (Rep. Byron Donalds) / Senate Bill 778 (Sen. Keith Perry) as written rolls back critical protections for LGBTQ youth by enabling conversion therapy even where cities and counties have already instituted protections, as long as the therapy occurs in a home. Conversion therapy is no less fraudulent or dangerous because it is practiced in a home setting.
In the statement, the group's Public Policy Director, Jon Harris Maurer, said: "This is the most overtly anti-LGBTQ agenda from the Florida legislature in recent memory."
Continued Maurer: "It runs the gamut from openly hostile legislation that would arrest and imprison doctors for providing medically necessary care, to legislation that would carelessly erase critical local LGBTQ protections."
One of the lawmakers, State Sen. Joe Gruters, told NBC that, "The bill certainly does not authorize an employer to discriminate against employees who are members of protected classes, whether protected by federal or state law or local ordinance," and pointed to the preamble in the bill he sponsored in w high he said he sought "to make clear that the preemption would not affect local anti-discrimination laws," but that explanation did not satisfy skeptics.
Said Equality Florida's Joe Saunders, "We appreciate that Sen. Gruters put that in," even though, he pointed out, "it's not policy; it's not considered part of the bill."
The NBC News report recalled that Republican lawmakers in other states have also worked to criminalize medical treatment for trans youth seen as appropriate and necessary by health professionals.
As EDGE reported late last year, South Carolina State Rep. Stewart Jones introduced a bill to outlaw both surgery and hormone treatment for trans people who are not yet adults.
Jones, in turn, referenced a recent, much-publicized custody case in Texas in which a pediatrician sought to allow her own trans child to express her gender identity freely while the father claimed that the child was being brainwashed into a female gender identity. That case — which the father turned into a cause célèbre in conservative circles by appearing on right-wing talk shows — saw the judge override the jury's recommendation that the child in question be given over to the sole custody of her mother.
Jones declared that care for trans kids has become "weaponized," and declared that his bill was intended "to protect children" by making it impossible for them to be "pressured or bullied in any kind of circumstance to have their gender reassigned."
Of course, the law would also prevent trans children from receiving the care they need — even if their doctors and parents agree that it is the best thing for them.
Advocates for trans youth have spoken out against the South Carolina bill as well similar GOP-sponsored laws in a number of other states, including Alaska and Illinois — and Texas, which is ground zero for the current wave of anti-trans legislative attacks.
Kilian Melloy serves as EDGE Media Network's Assistant Arts Editor. He also reviews theater for WBUR. His professional memberships include the National Lesbian & Gay Journalists Association, the Boston Online Film Critics Association, The Gay and Lesbian Entertainment Critics Association, and the Boston Theater Critics Association's Elliot Norton Awards Committee.
Comments on Facebook