1 thru 10 of 6896 Stories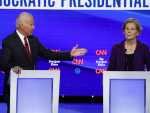 Voters got a better look at Democrats' health care priorities on Tuesday, as 12 of the leading candidates vowed to codify abortion access, threatened to jail opioid company executives and added a few more details to their health plans.
A dozen Democratic presidential candidates participated in a spirited debate over health care, taxes, gun control and impeachment. Takeaways from the three-hour forum in Westerville, Ohio.
Bernie Sanders and Elizabeth Warren don't just lead the Democratic presidential primary in fundraising. They've stockpiled millions more than their rivals, including former Vice President Joe Biden.
Voters are more concerned with how much they have to pay for medical care, like prescription drugs, but whose plan is most comprehensive?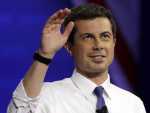 Elizabeth Warren would not seek to revoke the tax-exempt status of churches or other religious entities that decline to perform same-sex marriages if she's elected president, the Massachusetts Democrat's campaign said.
A dozen Democratic presidential candidates will meet on Tuesday for the most crowded presidential debate in modern history.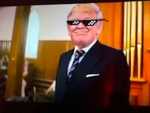 The White House says President Donald Trump has yet to watch a graphically violent parody video that depicts a likeness of him shooting and stabbing opponents and members of the news media, but based on what he's heard, he "strongly condemns" it.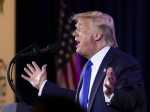 A graphically violent parody video, shown at a meeting of President Donald Trump's supporters at his Miami resort, depicted a likeness of the president shooting and stabbing his opponents,
As Democrats' impeachment inquiry into President Donald Trump intensifies, Mark Stenske feels like he's seen this movie before, and the storyline is getting old.
President Donald Trump on Friday pressed his argument that the House impeachment inquiry is nothing more than a new attempt to overturn his election based on "a lot of crap."
1 thru 10 of 6896 Stories