1 thru 10 of 6380 Stories
Mayor Pete has not been coy about the fact that he is gay, and he has been equally forthright about his status as a happily married man. But just who is his husband, Chasten Buttigieg?
An unbeatable edge bestowed by early voting and a campaign that avoided going negative were hallmarks in openly lesbian candidate Jane Castor's landslide victory in her run for mayor of Tampa, Florida.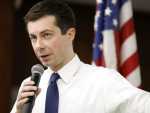 Pete Buttigieg is suddenly the hottest ticket for Democratic donors in the 2020 presidential contest.
Indiana Mayor Pete Buttigieg (BOO'-tuh-juhj) is the latest Democratic presidential candidate to agree to hold a town hall meeting on Fox News Channel.
If elected in the 2020 elections, Dan Baer would represent Colorado as the first openly gay man to be elected to the Senate.
Hollywood's powerhouse gay glitterati are throwing their support to Mayor Pete's candidacy, with none other than Ryan Murphy set to host a fundraiser for him in June.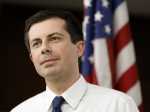 California Sen. Kamala Harris joined the call for Trump's impeachment as five leading Democratic presidential contenders clashed in a series of prime-time town hall meetings that exposed deep divisions in a party desperate to end the Trump presidency.
Pete Buttigieg became mayor of South Bend, Indiana, at age 29, a feat that made him the youngest mayor in America of a city of that size. But if a high school yearbook is to be believed, Mayor Pete is also a favorite pick to become president.
President Donald Trump's lawyer Rudy Giuliani insisted there was "nothing wrong" with the president's 2016 campaign taking information from the Russians.
Sen. Elizabeth Warren became the first 2020 Democratic presidential candidate to make a full-throated call for the House of Representatives to begin impeachment proceedings against President Donald Trump.
1 thru 10 of 6380 Stories