1 thru 10 of 5905 Stories
Police in eastern Poland say they detained a number of people who verbally abused and tried to block participants in the first LGBT pride parade held in a city that hosted far-right marches in the past.
Urged on by the first lady and celebrities including Kanye West and Kim Kardashian West, President Donald Trump said Friday he is trying to help free rapper A$AP Rocky, who has been held in police custody in Sweden for weeks.
How much do teachers and peers need to know about students' HIV-positive status? And what is the best way of managing their particular health needs at preschool level?
A lesbian couple has married in Ecuador in the first same-sex wedding since a landmark ruling last month by the country's highest court.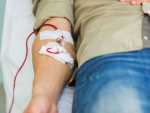 There's good news... sort of... for gay men in France who wish to donate blood: They will soon be able to do so after only four months of complete celibacy instead of a full year.
Fewer mock commando raids to test nuclear power plants' defenses against terrorist attacks. Fewer, smaller government inspections for plant safety issues. Less notice to the public and to state governors when problems arise.
The deadly Ebola outbreak in Congo is now an international health emergency, the World Health Organization announced Wednesday after a case was confirmed in a city of 2 million people.
Is a peek into the future worth your privacy in the present? That concern was pushed to the spotlight this week with the resurgence of a smartphone app that uses artificial intelligence to transform your current face into your younger and older selves.
Janet Jackson and rappers 50 Cent and Future have been added to the lineup for the Jeddah World Fest, the concert in Saudi Arabia that Nicki Minaj pulled out of after human rights organizations urged the rapper to cancel her appearance.
Israel's education minister has apologized for controversial remarks about homosexual "conversion therapy" and intermarriage among Diaspora Jews that drew widespread criticism in Israel and the U.S.
1 thru 10 of 5905 Stories