Watch: Texas Student Launches Savage Attack on Trans Classmate - and Won't Be Punished by School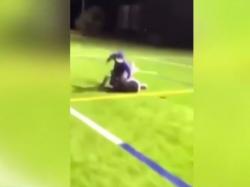 Even as GOP state lawmakers in Texas push a bill that would criminalize medically appropriate treatment for trans children - disingenuously labeling medical procedures as "mutilation" and "castration" - the trickle-down effects arguably took the form of a brutal beating that a high school student in Alpine, Texas allegedly inflicted without warning on a classmate.
Two other students reportedly stood by and laughed while the student battered his victim, with one bystander taking video of the beat-down with his phone. But that's not the most shocking part of the story, According to local news station CBS 7, the alleged assailant is poised to skate off free and clear with no consequences for his violent actions.
The beating took place on a Sunday evening as the unidentified student was hanging out with friends at a local football field. Three classmates happened by, and one of them approached the trans student. That student started verbally berating and harassing the trans student, reports said.
Then things turned violent, with a flurry of punches that reportedly "came out of nowhere."
Talking with a reporter from CBS 7, the beating victim said that the assailant made it clear the attack was directed at him because of his identity:
"And he said it's because he didn't like me and he didn't like who I was, that I just pissed him off."
Anti-LGBTQ violence in America has soared in the wake of the 2016 elections, with trans people - especially trans women of color - taking the brunt of often lethal attacks. The Human Rights Campaign, which monitors anti-trans violence, has tracked record-breaking rates of deadly violence targeting trans women in the last few years; in 2019 alone, 26 known trans victims were murdered. Those numbers may only be the tip of the iceberg, the HRC reports, since "often these stories go unreported -- or misreported."
In this case, despite the video evidence, the alleged attacker will not be facing any consequences - not from the school, at least.
The CBS 7 report quoted the superintendent of the local school system, Becky McCutchen, who pointed out that the attack took place off school grounds and said that the school can't do anything about it. If the alleged attacker is to face any consequences, the report said, it will have to be the police making an arrest.
Meantime, McCutchen claimed, the school system has "done everything we can to ensure the safety of all our students. And never would we condone something of that matter."
Except that, according to the victim, the bullying and harassment he faces even when on school property has only escalated following the vicious attack he suffered. "I had kids pretty much saying that I deserve to be dead," the victim related to the CBS 7 reporter. "And that he should have killed me."
The victim said that he fully expects more episodes of violence to be directed at him.
But the student's family are determined to pursue justice. CBS 7 reported that they are suing the alleged attacker - and the two who stood by laughing and taking video of the attack, as well.
The CBS 7 news report said that the trans student was targeted "for his sexuality," a common misapprehension. Trans people may or may not be gay, lesbian, or bisexual, but it is their gender identity - not their sexual orientation - that draws violence from others who assume that external sexual characteristics should determine a person's innate sense of masculinity or femininity.
In fact, it's not so simple. Trans people often describe knowing at extremely early ages that they are in the "wrong" kind of body. That sense of gender not matching with body is not, as some politicians suggest, a "phase" that trans people "grow out of," but rather a life-long - and unchangeable - part of who they are. The only possible change is gender reassignment - a procedure that trans people say allows them to live with a sense of fulfillment and relief.
Unfortunately, politicians assume they know better than trans people living in their own skin, and a wave of anti-trans legislation has swept GOP-controlled state legislatures, with bills taking aim at medically appropriate care for trans minors, and doctors caught in the crosshairs. Under Republican proposals in states like Texas, Georgia, and Kentucky, physicians who attempt to treat their patients in a manner prescribed by their needs and medical knowledge could find themselves hit with felony charges.
Anti-LGBTQ legislation from state lawmakers - particularly Republican lawmakers - is nothing new, but the new wave of anti-trans legislation is especially vitriolic. News reports note that the fresh wave of anti-trans bills was sparked by a custody battle in which a Texas mother and father sharply disagreed about their trans child. The mother sought medical counsel, while the father took his case to conservative talk outlets, where he was lionized - and trans kids, and the medical professionals who attempt to help them, were demonized.
At least one analysis of these new anti-trans bills pegs them as an outgrowth of larger anti-LGBTQ conservative attempts to force people into strictly defined sexual parameters and gender roles, without regard to the emotional or mental health stresses that individuals suffering under such laws would suffer.
Watch the CBS 7 news clip below.
Kilian Melloy serves as EDGE Media Network's Assistant Arts Editor. He also reviews theater for WBUR. His professional memberships include the National Lesbian & Gay Journalists Association, the Boston Online Film Critics Association, The Gay and Lesbian Entertainment Critics Association, and the Boston Theater Critics Association's Elliot Norton Awards Committee.
Comments on Facebook