Gay Austin: The Latest
When The View chose to discuss Kathy Griffin's lung cancer diagnosis and surgery earlier this week, it wasn't all get-well wishing on the panel's part. Soon-to-depart regular Meghan McCain chose to slam the comedian.
This past weekend's episode of "The White Lotus" featured two male characters in the midst of a sex act usually not featured on television.
Steven Romo is a news anchor for a Texas ABC affiliate, and his fiancé, Steven Morgan, is a weatherman for Fox. When Romo announced their engagement, he also came out as gay.
In revealing she is about to lose her apartment, "RuPaul's Drag Race" Season 2 star Stacy Layne Matthews has taken to social media with an SOS asking fans for help.
A married couple claims they were harassed with anti-gay slurs and threatened by Burger King employees in Salida, California. They've since reported the incident to the police.
CNN anchor Chris Cuomo appeared to offer advice on a statement by his brother, New York Gov. Andrew Cuomo, addressing allegations of sexual harassment, according to a report issued on Tuesday.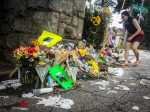 The "monster" who stabbed a woman to death and also killed her dog as they walked in a popular Atlanta park must be taken off the streets, but rumors are not helping police to solve the case, the city's mayor said Tuesday.
Published after his death, Anthony Veasna So's story collection includes characters haunted by memories of genocide, especially the older parents, aunties, and uncles who experienced trauma before escaping Cambodia.
At age 76, gay German actor Udo Kier is having the time of his life; he's just played the role of a lifetime. Kier stars in Todd Stephens' acclaimed new film "Swan Song" as gay retired hairdresser.
President Joe Biden's administration drew up a strategy to contain one coronavirus strain, then another showed up that's much more contagious.
One of Provincetown's most anticipated theme weeks of the season returns August 15-21 as the Provincetown Business Guild (PBG) announces the schedule for the 42nd annual Carnival.

After a highly competitive bidding war, Amazon Studios has Billy Eichner's "Ex-Husbands" comedy film for development, written by Eichner, and playwright and humorist Paul Rudnick.
Spirit Airlines canceled nearly half its schedule for Tuesday, the third straight day of extremely high cancellation numbers at the budget airline.
Despite the social distancing of the past 18 months, the use of dating apps in general has surged as people sought connections amid their isolation and dating apps are responding by rolling out new features.
The tattered myth that gays are generally better off than their heterosexual peers took another hit with a new study that reconfirms gay and bisexual men earn less than straight men do.
The national landmark museum, founded in 1929 by the creator of the Model T and father of Ford Motor Co., houses some of the most historic items in U.S. history.

Celebrity dermatologist Dr. Alex Khadavi was arrested and booked for felony criminal threats. The arrest came as a result of a homophobic rant that Khadavi made in a posh LA condo lobby on July 7.
Released in late July, the company's deep glute massage video has been viewed more than 355,000 times. See why.
The Carnival Mardi Gras docked Tuesday in Puerto Rico — the first time a cruise ship has visited the U.S. territory since the pandemic began.
Lollapalooza returned to Chicago in Grant Park to celebrate 30 years as a music festival. LGBTQIA+ representation was not only in the crowd, but the performers as well.