Gay Austin: The Latest
Over on Reddit, there is a lively forum of straight guys revealing their gayest experiences. Here is a sample of their posts.
Variety reports that out actor Colton Haynes is set for a new LGBTQ comedy with co-star Eliot Glazer.
After a chaotic administration that's been disastrous for LGBTQ rights, uncertainty and realism are tempering expectations for Biden-Harris results.
President-elect Joe Biden has chosen the openly gay head of the District of Columbia's Department of Transportation, Jeff Marootian, for a post on the incoming administration's climate team.
Alt-right poster boy Nick Fuentes recently was made $250,000 richer in a weird Bitcoin transaction. He also expressed his distaste for homosexuality in an exchange with the drag queen Lady Maga, & dated a man in a cat suit.
Ex-"Bachelorette" hunk Josh Seiter came out as pansexual recently.
RuPaul challenged the queens to riff on the slogan, "We're here. We're sheer. Get used to it." Here's our take.
In Hollywood's long history, there have been instances of gay actors playing gay roles. Here's a list.
Armie Hammer has ended his very bad week with the shocking contents of his secret Instagram being leaked.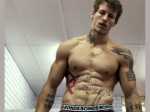 OnlyFans has been a boon for some during the Pandemic, including Aussie model Alec Nysten. But the 28-year old is seeing his revenue stream compromised by leaked pics.
A scholarly paper based on surveys of gay and bisexual men finds that while PrEP use has increased, only a fraction of men who have sex with men have taken it up — and a third of those abandon PrEP over time.
After ugly accusations on social media, Armie Hammer drops out of upcoming film co-starring Jennifer Lopez.
Harmony CBD has harnessed hemp's power to create a line of skincare products that will have us looking better than ever in 2021.
"New Year. New You." It's a phrase we've heard countless times, but what exactly are we striving for? Enter Noom, which has people lead healthier lives through behavior change since 2016.
The year that brought so many surprises is shaping up to be a surprisingly good one for investors, and that's a timely reminder for 2021.
Trucks and SUVs will dominate the news in 2021. Edmunds' experts cover the five they think will make the biggest splash.
Usually cameras are trained on the celebrities at such shindigs but with the new HBO Max series "The Event," they have captured the cooks and servers toiling behind the scenes.
The coronavirus was found on ice cream produced in eastern China, prompting a recall of cartons from the same batch, according to the government.
There is a ray of light for Parisians who, like the rest of the French nation this weekend, begin to observe a tightened coronavirus curfew: The famous Rodin Museum sculpture gardens is reopening to visitors.
The term "sexual fluidity" has come under scrutiny as researchers further explore the nuances our sexual expression, attraction and behavior.