Jason Wu did what few designers dare during New York Fashion Week: He put on a live show Sunday with a tiny audience present in the middle of a pandemic.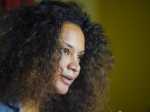 The Italian fashion council's only Black designer has hailed as a ''breakthrough'' the inclusion of a Black Lives Matter event and the formation of a working group aimed at ending racial discrimination in Italian fashion.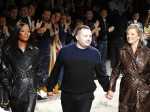 Rome fashion house Fendi announced Wednesday that Kim Jones is succeeding the late Karl Lagerfeld as creative director of haute couture, ready-to-wear and fur collections for women.
The leather market has begun to look to new, sustainable innovations. As strange as it might sound, the latest contender is the humble fungus.
"RuPaul's Drag Race" winner Aquaria is showing off their Lady Gaga gear, including a "Chromatica"-themed jockstrap.
LA-based designer Cody Allen decided to use his quarantine design to come up with a sexy swimsuit design that recalls his rural, Texan roots, as well as be right at home on Fire Island.
Many shoppers are seeing iconic labels vanish or become mere shadows of themselves, driven in part by a pandemic that has shoved them into bankruptcy.
Whatever your fashion sensibility, one thing is for sure: denim never goes out of style. Here are 15 of our favorite looks of the season.
See all the highlights of Kim Jones' latest Dior men's Fall 2020 creations: the men's Artistic Director creates a clash of American and French cultures that dives into the surfing world in a collaboration with artist and designer Shawn Stussy.
A metal swinging pendulum traced patterns in the sandy runway of the Gucci Fall Winter 2020 Men's show. Circling around it, 58 looks from the men's collection debuted, including distressed cropped knits, wide denim pants and prints by Liberty London.