Review: Wilbury Theatre Group's 'Decameron Providence' Offers Stories for Our Time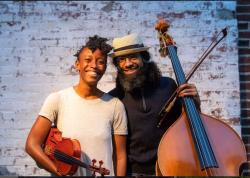 Taking the framework of a 14th-century story that took place during the deadliest pandemic in human history and making it theatrically viable for our current times is the challenge for the Wilbury Theatre Group with "Decameron Providence," the company's offering on view through August 22.

This festival of spoken word, poetry, music, film and reflections on the pandemic played in an outdoor venue is named after the collection of novellas by Italian author Giovanni Boccaccio (minus the location). In his story, five women and three men seclude themselves in a small villa to escape the the Black Plague, and to pass the time they tell stories to each other. In a world where theaters are shuttered, actors aren't working and musicians are playing in their living rooms, Wilbury takes an innovative approach to performance art with this delightfully inspired production.

The ambitious event, produced in association with WaterFire Providence with advice from the Brown University School of Public Health for the safety precautions, is set in two Providence locations, East and West. Each feature five performance pieces with the audiences broken down into brigades (or "brigatas"), or small groups of ten to twenty members, led by a group leader. The leader keeps the "brigata" isolated from other members of the audience in various ways. At check-in each audience member must provide proof of a self-screen for symptoms of Covid-19; then each "brigata" is directed to separate parking lots throughout the property (in my case it was the WaterFire Arts Center) where they are instructed to social distant (6-feet apart) and are briefed on safety regulations for the event.

Folding chairs are provided, but in the case that there aren't any available guests may sit upon pavement or grass. (My companion and I brought our own chairs to make for a comfortable experience.) To conform to safety guidelines, the five presentations are set apart from each other with plastic rings strategically placed to encourage a six-foot space between viewers. And to keep everyone moving smoothly, tones are played through loudspeakers; it is the duty of the Brigata leader to interpret their meaning so that members of the audience will know when to proceed to another performance. While timed, it did seem as though some performances ran a bit longer, but our leader kept us safe and distant from others during the duration.

The five pieces are equally different in several ways. Opening with Christopher Johnson and Big Lux (spoken word with hip-hop violin), Johnson relates the experience of being a Black artist in Providence. The talented Lux accompanies him with a rendition of "Killing me Softly." In the second, Andy Russ acts out an experience that is more visual than auditory before a brief intermission. The final three acts offer a spirited jam by Wilbury End of the World Cabaret; a viewing of a short film by Don Mays (AFRI Productions); and a performance by Ashely Frith and Desmond Bratton (from Community Music Works) to close the evening. Each piece proves relevant to the current pandemic, highlighting issues of systemic racism and COVID-anxiety with humor and insight. Food is also available for purchase in a contactless environment, although those not conversant in modern technology will have problems with the process, it makes it easier if you're aware of your smartphone's capabilities.

Bravo to the Wilbury Theatre Group for creating such an innovative and fluid theater experience in a time when theater companies are scrambling to return to safe performance spaces. And at $10 per guest it's also an affordable way to get out of the house and be entertained. (Note: you may need an umbrella for these rain or shine performances.)

"Decameron Providence" runs through August 22nd at the WaterFire Arts Center 475 Valley Street (west) or Hemlock Street and Ironhorse Way (East.) For information or tickets call 401-400-7100 or visit www.thewilburygroup.org.
Comments on Facebook