1 thru 10 of 5448 Stories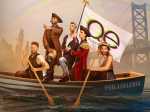 Saudi Arabia has allowed Netflix to stream LGBTQ-centric series "Queer Eye" and "Orange is the New Black" over what Netflix Co-CEO Reed Hastings as a "troubling compromise."
In Ryan Murphy's new Netflix series "Ratched," the producer attempts to give the twisted nurse from "One Flew Over the Cuckoo's Nest," here played by Sarah Paulson, an origin story but serves up mostly over-the-top drama.
Two of television's most popular queer shows — "Queer Eye" and "RuPaul's Drag Race" have scored this week at the Creative Arts Emmy Awards.
Jude Law and Naomi Harris star in HBO's "The Third Day" a meditative and slow-moving series about a mysterious British island that's all too familiar.
Three years after the success of "Call Me By Your Name," out filmmaker Luca Guadagninio heads to the small screen for the vibrant and queer coming-of-age series "We Are Who We Are."
It's high season for books that pick apart Donald Trump's presidency, and Rachel Maddow is a big beneficiary.
RuPaul famously tells her cover girls to let their whole bodies talk. But in the time since her ascension to self-proclaimed supermodel of the world, whose bodies are allowed in the conversation has become a strong point of contention.
A new set of cheeky, 20-seconds ads by packaged foods giant Dole offends One Million Moms.
Good news for fans of "Pose": Variety is reporting the FX series will go back into production in October.
"Equal," a four-part docuseries on HBO Max, will focus on the lives of trailblazers in LGBTQ history from the turn of the century and into the 1970s after the Stonewall riots
1 thru 10 of 5448 Stories