Review: 'Jakob's Wife' Takes a Novel Bite at the Domestic Drama Apple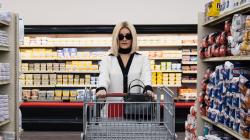 "Girl on the Third Floor" writer/director Travis Stevens gives his own twist on a small-town vampire movie by giving it a playful, but impactfully domestic, twist.
Starring horror icons Barbara Crampton ("Re-Animator") and Larry Fessenden ("The Last Winter" director), "Jakob's Wife" centers on Pastor Jakob Fedder (Fessenden), his quiet, genial wife Anne (Crampton), and the pastoral community they serve.
But when a young woman (Angelie Simone) disappears after encountering a mysterious figure on the way home to see her mother, the community is frightened.
Meanwhile, Anne sets off to show old flame Tom Low (Robert Rusler of "Nightmare on Elm St. 2" fame) a warehouse property she is representing. The two clearly have chemistry, and after some awkward moments of lingering past emotions the two discover there is more in the warehouse than they expected. Soon enough tragedy strikes, and Anne returns home a changed woman.
Spinning into a sort of "Rosemary's Baby"-style reawakening, Anne realizes she's been altered. And while her demeanor is colder, the strength she has attained overnight excites her; not just physical strength, but confidence as well.
Soon enough, Anne is a new woman who must figure out what is really going on, while also trying to stop any more horrible things from happening in town. All the while, Pastor Jakob and Anne must reassess their relationship and Anne's role within it.
Stevens' film does a beautiful job of mixing the horror of the situation with the domestic tribulations of a long-married couple who have been stuck in their roles for so long they realize something has to change.
When Anne literally begins to morph into something strange and new, this also puts their marriage on edge, assuring a transformation is around the corner. It's an interesting dynamic and a powerhouse role for Crampton, who gives a truly award-worthy performance as a woman rehabilitated in mysterious and darkly liberating ways. She's wonderful.
Bonnie Adams (best known for her role as the scary nun in the "Conjuring" universe) offers a fun turn as the diabolical presence in town, and Fessenden is a delight as the sometimes confused, sometimes determined husband who has some growing up to do.
Even with a low budget, Steven's film looks great and the actors give it their all. They dexterously navigate the serious drama, the unnerving horror, and the grand guignol comedy with ease, which is no small feat.
"Jakob's Wife" takes a terrific bite out of the saturated vampire genre by breathing new life into it, while giving the gorgeous Crampton a stand-out and complex role. Jakob's wife is truly the better half in this twisted take on domestic relations.

"Jakob's Wife" will be in theaters and On Demand and digital on April 16th.
Kevin Taft is a screenwriter/critic living in Los Angeles with an unnatural attachment to 'Star Wars' and the desire to be adopted by Steven Spielberg.
Comments on Facebook