Review: Nostalgic 'Alone With Her Dreams' No Light and Airy Excursion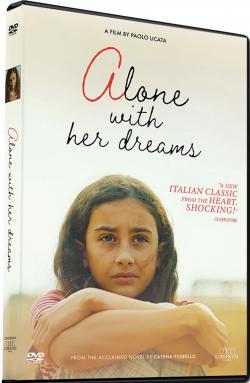 When Lucia's (Marta Castiglia) parents take her brother and leave Italy for better opportunities in France, she's left in the care of her grandmother, Donna Maria (Lucia Sardo). The next year proves to be a watershed in Lucia's coming of age, in Paolo Licata's drama "Alone with Her Dreams."

Her parents having left her behind isn't the only family trauma Lucia has to contend with. Donna Maria has not been on speaking terms with her sister Pina (Ileana Rigano) and Pina's husband Saro (Claudio Collovà) for decades; by extension, neither does Donna Maria speak with her niece, and Lucia's cousin, Rosamaria (Katia Greco), and now that Lucia is living with Donna Maria, those members of her family are also off-limits to her.

But this awkward arrangement isn't so easy to maintain in a small village, and when Lucia spies Rosamaria in a compromising situation that could endanger the family's reputation, her complicated and painful situation only grows more challenging.

But there are upsides to her life, too, such as a new friend at school and, as time passes, a gradual drawing closer between Lucia and her grandmother.

The film's gorgeous cinematography (by Lorenzo Adorisio) does justice to the Italian landscapes, and the atmospheric tone Licata establishes is very much in the mold of classic Italian cinema. The film can feel rushed, leaving out (or leaving off from) certain details and story threads - for instance, what about that new school friend, who seems to be a budding lesbian? There's also a horrifying family secret that the viewer will see coming, and dread of its emergence into the light turns out to be justified, but by the film's end there's a slight sense of a rush and skip to resolution (as dramatic as that resolution might be).

This is no light and airy excursion, although the light and air of the seaside setting gives the film a nostalgic, and very Euro-cinema, feel.


"Alone with Her Dreams" is available on DVD Feb. 23.
Kilian Melloy serves as EDGE Media Network's Associate Arts Editor and Staff Contributor. His professional memberships include the National Lesbian & Gay Journalists Association, the Boston Online Film Critics Association, The Gay and Lesbian Entertainment Critics Association, and the Boston Theater Critics Association's Elliot Norton Awards Committee.
Comments on Facebook