Top Story
Charlize Theron is revealing that she's raising her child Jackson, whom she adopted and introduced to the world as a boy, as a girl.
1 thru 10 of 47549 Stories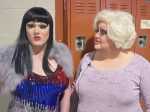 The suicide of a bullied 15-year-old in Huntsville, Alabama, has sparked efforts to reach out to LGBTQ youth and also provide education around the issue of bullying.
President Donald Trump and his business organization have sued the Democratic chairman of the House oversight committee to block a subpoena that seeks years of the president's financial records.
The Supreme Court will decide whether the main federal civil rights law that prohibits employment discrimination applies to LGBT people.
Pete Buttigieg became mayor of South Bend, Indiana, at age 29, a feat that made him the youngest mayor in America of a city of that size. But if a high school yearbook is to be believed, Mayor Pete is also a favorite pick to become president.
Police in Northern Ireland arrested two teenagers Saturday in connection with the fatal shooting of a young journalist during rioting in the city of Londonderry and warned of a "new breed" of terrorists threatening the peace.
The time is drawing near for the impending birth of the first child for Prince Harry and his wife Meghan, the Duchess of Sussex.
President Donald Trump's lawyer Rudy Giuliani insisted there was "nothing wrong" with the president's 2016 campaign taking information from the Russians.
Sen. Elizabeth Warren became the first 2020 Democratic presidential candidate to make a full-throated call for the House of Representatives to begin impeachment proceedings against President Donald Trump.
Police say a 59-year-old man told a 15-year-old boy he was 39 and promised a shopping trip in exchange for "making out" - but then assaulted the teen.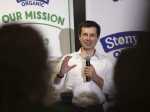 There are no policy positions on his website. He has virtually no paid presence in the states that matter most. And his campaign manager is a high school friend with no experience in presidential politics. Welcome to the campaign of Pete Buttigieg.
1 thru 10 of 47549 Stories