Top Story
A-list celebrities seem to be opening their hearts — or at least their wallets — to Pete Buttigieg.
1 thru 10 of 48829 Stories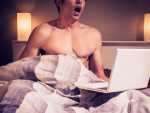 You might think that using "incognito" mode is a good way to secure a little privacy while seeing what's new in porn online, but that's not necessarily the case, a new study reveals.
Broadway legend Patti LuPone took to Twitter Thursday to call out Republican Sen. Lindsey Graham and his sexual orientation.
A lesbian couple has married in Ecuador in the first same-sex wedding since a landmark ruling last month by the country's highest court.
A former top Nevada Democratic lawmaker was sentenced to more than two years in federal prison and fined almost $250,000 for misusing campaign funds to pay personal bills and open a downtown Las Vegas nightclub where he hosted political fundraisers.
Manny Pacquiao has had a whole lot more to say about boxing ever since he became a politician.
Cruise passengers drifted through the streets of Old San Juan Thursday as shop owners took plywood down from store windows and painted over graffiti demanding Gov. Ricardo Rosselló resign.
Joe Biden was at a soul food restaurant in Los Angeles on Thursday when he blasted President Donald Trump's "racist" taunts at a rally the night before.
Democrats on the House Judiciary Committee who will question former special counsel Robert Mueller next week plan to focus on a narrow set of episodes laid out in his report.
Long before President Donald Trump turned up the heat on four Democratic congresswomen of color, saying they should "go back" to their home countries, hateful rhetoric and disinformation about the self-described squad was lurking online.
Donald Trump has said that the U.S. is "dying," that America has "nothing, and that the nation's dreams are "dead." But he did not leave and "go back" to anywhere, as he's saying other critics of the country should do.
1 thru 10 of 48829 Stories