South Florida Gay News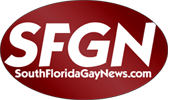 The South Florida Gay News.com celebrates the lives of South Floridians with daily news briefs and storied features, breaking news and lifestyle profiles. Check out their website at southfloridagaynews.com.
Law enforcement and community leaders have taken steps to ensure a tragedy the magnitude of the Pulse nightclub massacre never takes place in gay centric cities like Wilton Manors or Miami.
In a country where gays can marry and serve in the military in many places there remains a pressure to stay in the closet as companies and even states offer little to no protections.
On Wednesday, Queen Elizabeth II addressed Parliament claiming she will handle discrimination on the basis of sexual orientation.
During the hot summer months when the snowbirds and tourists head north, many theaters are "dark," theater jargon for "closed." That's not the case for three local venues that primarily attract LGBT audiences.
One hundred students, many from South Florida, are expected to participate in the annual Peace Ambassador Leadership Summit, organizers said. The summit is a seven-day conference at Florida International University in Miami.
For Fred Erick, a gay man in New York, the life threatening crisis facing gay men in Chechnya was personal.
During a recent Pride Month kick-off in Philadelphia the campaign More Color More Pride, a movement to recognize nonwhite LGBT communities within the broader pride movement, unveiled a pride flag with an additional black and brown stripe.
Different groups came together to give speeches in front of a rainbow colored "Equality" banner on a hot summer late afternoon.
M Barclay is transgender, queer, and uses they/them pronouns. They have also just been appointed as a deacon for the Northern Illinois conference last week.
On Tuesday Danica Roem became the Democratic party's representative in the District 13 Virginia House of Delegates race. She now faces Bob Marshall of the Republican party. Marshall is a self-described "chief homophobe."