Gay Austin: The Latest
A friend of the Dayton gunman who investigators say bought body armor and an ammunition magazine used in the shooting has lost a second attempt to get out of jail.
The U.S. government on Friday announced changes to the agency that runs the country's immigration courts, giving its director authority to weigh in and make appellate rulings on cases.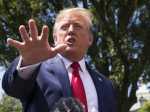 President Donald Trump raised some eyebrows earlier this week when he glanced heavenward and referred to himself as "the chosen one" to take on China. He took the comment back Friday.
Republicans for a half century have built a loyal following among white evangelical Christians. But Buttigieg is trying to demonstrate that there's a strong religiosity among Democrats, too.
The series turned Starz into a must-watch cable network for many viewers, proved 50 Cent's instincts correct and along the way turned its characters into internet sensations and, in some cases, household names.
None of these is legit, even though they were shared widely on social media. The Associated Press checked them out. Here are the real facts.
Under international pressure to contain fires sweeping parts of Brazil's Amazon, President Jair Bolsonaro on Friday authorized use of the military to battle the huge blazes while thousands took to the streets to protest his environmental policies.
A white Florida man who told detectives he had a "pet peeve" about illegal parking in handicapped spots was convicted late Friday of manslaughter for the fatal shooting of an unarmed black man outside a convenience store.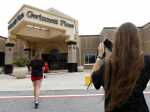 Soon after Netflix released "Stranger Things," fans of all ages came into Bradley's Big Buy grocery store in Palmetto, Georgia, dressed like characters from the show, and wandered toward the Eggo waffles aisle, cameras in hand.
A federal appeals court on Friday reinstated a lawsuit filed by two Minnesota filmmakers who want the right to refuse to film same-sex weddings, saying that videos are a form of speech with constitutional protections.
Federal appeals judges have upheld a ruling that the state of Kentucky must pay $224,000 in legal expenses stemming from a former county clerk's refusal to issue same-sex marriage licenses.
"On Becoming a God in Central Florida," starring Kirsten Dunst and debuting on Showtime Sunday, is a twisted take on the American dream.
The Bureau of Land Management's plan for the Grand Staircase-Escalante National Monument in southwestern Utah codifies that the lands cut out of the monument will be open to mineral extraction such as oil, gas and coal.
Event organizers hoping to eliminate ticket scams and huge markups in the secondary market are increasingly turning to companies that use technology to allow fans to buy and resell their tickets while putting caps on prices.
What I learned, besides fascinating facts about rabies, its transmission and the horrible ways one can die from it, was that any one of us is a mere cat scratch away from financial peril if we aren't lucky enough to have good health insurance.
President Donald Trump is misrepresenting the facts about his proposal to freeze Obama-era fuel economy requirements at 2021 levels.
The salmon rebound comes after three years of extremely low catches that resulted from poor ocean conditions and California's five-year drought, which drained the state's rivers and reservoirs.
Scientists are testing how pharmaceutical-grade MDMA can be used in combination with psychotherapy to help patients with a severe form of PTSD that has not responded to other treatments.
VACAYA's inaugural cruise offered a catch-all for queer travelers. Here's one guest's experience of his week at sea.
For its 22nd year, the event is expected to attract more than 30,000 LGBT park-hoppers from California and all over the country. They will enjoy Disneyland in a way that it can only be experienced during Gay Days.