Gay Austin: The Latest
The Log Cabin is getting emptier, even as conservatives can barely bring themselves to mention the endorsement that the national group of LGBTQ conservatives gave Donald Trump.
How companies run by Miami businessman Jorge A. Perez and his associates were able to drive so many hospitals into the ground so quickly, devastating their communities, is a story about the fragility of health care in rural America.
Republican candidate for Louisiana governor Ralph Abraham has released a new TV ad that takes aim at abortion rights and the transgender community as he works to draw attention for his campaign.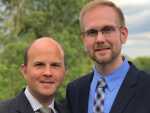 Catholic church leaders in Indianapolis are citing the First Amendment as a defense to a lawsuit filed by a teacher who was fired because he's in a same-sex marriage.
Kentucky Supreme Court justices are scheduled to hear oral arguments in a case over a company's refusal to print T-shirts for a gay-pride festival due to religious beliefs.
Liam Hemsworth is seeking a divorce from Miley Cyrus after seven months of marriage.
A federal jury sided Wednesday with novelist Nicholas Sparks and the private Christian school he founded in his North Carolina hometown, dismissing claims by the school's former headmaster that he was unjustly fired and then slandered by the author.
Taylor Swift plans to re-record her songs after her catalog was purchased by popular music manager Scooter Braun.
Iceland's leader has announced that she will skip U.S. Vice President Mike Pence's visit to her Nordic nation, opting instead to keep "prior commitments" by attending a trade union conference and meetings in Sweden.
The will that Jeffrey Epstein signed just two days before his jailhouse suicide puts more than $577 million in assets into a trust fund that could make it more difficult for his dozens of accusers to collect damages.
About 6 in 10 Americans disapprove of President Donald Trump's overall job performance, according to a new poll.
Faith Prince returns to Ptown for a pair of concerts this Sunday & Monday with Seth Rudetsky. EDGE spoke to the Tony-winning Broadway star about her career, singing & the key to a happy show-biz marriage.
The federal budget deficit is expected to balloon to more than $1 trillion in the next fiscal year under the first projections taking into account the big budget deal that President Donald Trump and Congress reached this summer.
New York University air and ocean scientist David Holland, who is tracking what's happening in Greenland from both above and below, calls it "the end of the planet."
What I learned, besides fascinating facts about rabies, its transmission and the horrible ways one can die from it, was that any one of us is a mere cat scratch away from financial peril if we aren't lucky enough to have good health insurance.
President Donald Trump is misrepresenting the facts about his proposal to freeze Obama-era fuel economy requirements at 2021 levels.
A mix of homegrown chefs and transplants from other cities have been opening risk-taking and award-winning restaurants, offering creative spins on American food and authentic takes on cuisines like Venezuelan and Vietnamese.
More women may benefit from gene testing for hereditary breast or ovarian cancer, especially if they've already survived cancer once, an influential health group recommended Tuesday.
Airlines expect record crowds over the week-long Labor Day period, continuing a rise in travel that has boosted the airlines' profits all year.
EDGE was on hand for the Gay Days 2019 Kick-off Party at the Wyndham Orlando Resort.