Top Story
Health officials say a teenager in Montana has died of a lung disease associated with a national outbreak of vaping-related illnesses.
Johnson & Johnson on Friday recalled a single batch of its baby powder as a precaution after government testing found trace amounts of asbestos in one bottle bought online.
Health officials of Thursday said there have been 1,479 cases and at least 33 deaths in the mysterious outbreak.
An emotional Michael Jordan unveiled the first of two medical clinics he and his family funded to provide care to underprivileged members of the community.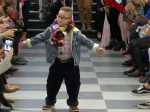 Though New York's Fashion Week wrapped more than a month ago, there was plenty of fierce fashion at the second annual "Gigi's Playhouse Fashion Show" on Wednesday, an event that allows young people with Down syndrome to share their talent.
National Institutes of Health (NIH) and Massachusetts General Hospital (MGH) researchers have identified a new use for tesamorelin which may help reverse liver disease in those living with HIV. Read the highlights of the NIH press release here.
The Aids Healthcare Foundation (AHF) called on October 5 for Gilead Sciences Inc. to cut prices of pre-exposure prophalaxis drug Descovy. The new medication,was recently FDA approved amid controversy concerning its limited lab testing demographics.
Men looking to make a change to their intimate lives - by way of making changes to their intimate equipment - are driving the growth of the penis enhancement industry. But are the procedures all they are pumped up to be?
Greater Palm Springs has more than 300 days of sunshine per year, and come autumn when those desert temperatures begin to drop, there's no better time to create your own wellness retreat. Here's our essential guide to get you started.