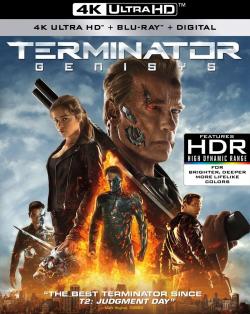 "Arnold is back and better than ever" in this explosive new chapter of the blockbuster Terminator franchise. In the war of man against machine, Kyle Reese (Jai Courtney, The Divergent Series) is sent back to 1984 by resistance leader John Connor (Jason Clarke, Everest) to protect his young mother, Sarah Connor (Emilia Clarke, Game of Thrones). However, this time unexpected events have altered the past and threaten the future for all mankind. Now Reese must join forces with Sarah and her "Guardian" (Arnold Schwarzenegger) to save the world in "one of the best action movies of the year."

Contains the following special features:

Reset the Future: Constructing Terminator Genisys
Paradigm Shift
Family Dynamics
Old. Not Obsolete.
Tactical Apparel
A Once and Future War
Infiltration and Termination
Manipulating Matter
Exiles in Time
Battle on the Bridge: Multi-Angle Scene Breakdown
Angle 1: Previsualization
Angle 2: On the Set
Angle 3: Previsualization/Final Film Composite

Enter to win!

Thanks for visiting EDGE!
Enter this contest
If you already have an account with EDGE, all you need to do is log in; we'll pull your address information from your account and simply ask you to verify it. If you do not yet have an account with us, register now! It's easy and free, and you'll never have to type in your personal information again. If you prefer to enter this information manually, you can use the manual entry link below.
Register
Manual Entry
Click here for contest rules.
* Please be aware that creating multiple accounts for the same person will disqualify you.