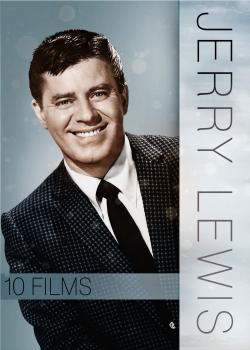 Celebrate Hollywood Icon Jerry Lewis with a New 10-Film Collection

Out June 12, 2018

Relive some of the greatest film moments from comedy legend and Hollywood icon Jerry Lewis with the new JERRY LEWIS 10 FILM COLLECTION, arriving on DVD June 12, 2018 from Paramount Home Media Distribution. Celebrated for his remarkable range of characters, outlandish antics, and uninhibited physicality, Jerry Lewis' work continues to delight audiences around the world and inspire new generations of comedians.

Featuring 10 of Lewis' most beloved comedies, the JERRY LEWIS 10 FILM COLLECTION is headlined by 1963's enduring classic The Nutty Professor, which celebrates its 55th anniversary this year. Considered by many to be Lewis' finest and most memorable film, The Nutty Professor was included on the American Film Institute's list of the 100 funniest American films of all time and was selected for preservation in the U.S. National Film Registry by the Library of Congress in 2004.

Includes:

• The Stooge (1951)-Features one of Lewis' earliest pairings with Dean Martin as a musical-comedy duo

• The Delicate Delinquent (1956)-A "teenage terror" is recruited for the Police Academy

• The Bellboy (1960)-Lewis plays a friendly but clumsy bellboy in this slapstick classic

• Cinderfella (1960)-Lewis' take on the classic Cinderella story

• The Errand Boy (1961)-Paramount enlists a bumbling Lewis to spy on their productions in this hilarious film studio comedy

• The Ladies Man (1961)-A girl-shy man finds work in a women-only hotel with uproarious results

• The Nutty Professor (1963)-A socially awkward professor invents a serum that turns him into the handsome but obnoxious Buddy Love

• The Disorderly Orderly (1964)-Lewis wreaks havoc in a private rest home

• The Patsy (1964)-Lewis directs and stars as a novice recruited to replace a big-time comedian

• The Family Jewels (1965)-Lewis directs and plays seven distinct roles in this family inheritance farce

Enter to win!

Thanks for visiting EDGE!

Enter this contest
If you already have an account with EDGE, all you need to do is log in; we'll pull your address information from your account and simply ask you to verify it. If you do not yet have an account with us, register now! It's easy and free, and you'll never have to type in your personal information again. If you prefer to enter this information manually, you can use the manual entry link below.
Register
Manual Entry
Click here for contest rules.
* Please be aware that creating multiple accounts for the same person will disqualify you.