A black Congress member said it "incomprehensible" that after the overdose deaths of two African American men at the apartment of L.A. area gay activist Edward Buck, a third man nearly died there before authorities arrested Buck.
A hearing Wednesday on the future of the court conservatorship that for 11 years has controlled the money and affairs of Britney Spears ended with no decisions made and no appearance from the pop star.
Canadian leader Justin Trudeau's campaign moved to contain a growing scandal, following the publication of a yearbook photo showing him in brownface makeup at a 2001 costume party. The prime minister apologized and begged Canadians to forgive him.
Massachusetts U.S. Rep. Joe Kennedy III, a scion of one of America's most storied political families, is set to announce he will challenge U.S. Sen. Edward Markey in the state's Democratic primary in 2020.
Alongside other "essential" household supplies for sale on Amazon, there's now a product offered that might give consumers pause: an at-home rape kit.
President Donald Trump signed his name on a newly constructed section of the U.S.-Mexico border wall, calling it a "world-class security system" that will be virtually impenetrable.
Bernie Sanders is still leading a revolution. But his ideas no longer feel quite so revolutionary.
Demi Burnett and Kristian Haggerty have made "Bachelor" franchise history for the second time, becoming the first same-sex couple on any of the hugely-viewed shows to get engaged.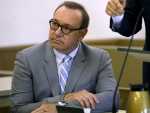 A massage therapist who anonymously accused Kevin Spacey of sexual misconduct has died, according to a notice filed in court by the actor's attorneys. The news comes ahead of the case going to trial.
Kristin Chenoweth is heading back to Broadway in November for a one-week engagement to celebrate her newest album, "For the Girls." EDGE spoke to the Tony-winning Broadway star about how the new album came about.