The record number of climbers crowding the world's highest mountain this season has left a government cleanup crew grappling with how to clear away everything from abandoned tents to human waste that threatens drinking water.
Residents of the Coquina Key Condominiums, where Robin Chipman lives in St. Petersburg, Florida, are allowed to put up flags in support of their favorite sports teams... but, apparently, not in support of their LGBTQ friends.
As weed has become easier for people to get, it has also become a hazard for dogs.
A private high school is firing an educator to avoid having its ties cut with the Archdiocese of Indianapolis.
Actor Connor Jessup, who starred in two seasons of ABC's critically acclaimed series "American Crime" and the queer film "Closet Monster," took to Instagram Sunday night to come out as gay.
Top Australian rugby player Israel Folau managed to scuttle his career by posting anti-LGBTQ messages on social media in violation of sport policies. Now GoFundMe says he violated their standards, too - and have yanked his page.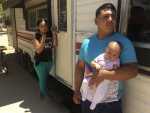 The U.S. Census Bureau is using new high-tech tools to help get an accurate population count next year as its faces challenges tallying people of color who live in remote places and can be wary of the federal government.
Days before the first Democratic presidential debates, Sen. Bernie Sanders and House progressives are unveiling legislation cancelling all student debt, going further than a signature proposal by Sen. Elizabeth Warren.
The dramatic rescue of a lost hiker in Hawaii recently shows how emerging technology helps search teams more efficiently scour the wilderness for missing people.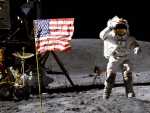 Hundreds of millions of people were riveted when Apollo 11 landed on the moon on July 20, 1969. Naturally, marketers jumped at the chance to sell products from cars and televisions, to cereal and a once-obscure powdered drink called Tang.