President Donald Trump has placed racial animus at the center of his reelection campaign, and even some of his critics believe it could deliver him a second term.
Berkeley, California, has adopted an ordinance to replace some terms with gender-neutral words in the city code.
U.S. overdose deaths last year likely fell for the first time in nearly three decades, preliminary numbers suggest.
Is a peek into the future worth your privacy in the present? That concern was pushed to the spotlight this week with the resurgence of a smartphone app that uses artificial intelligence to transform your current face into your younger and older selves.
The average American only gets 10 nights of perfect sleep in a month, according to new research.
Democratic presidential candidate Bernie Sanders all but guaranteed in his "Medicare for All" speech on Wednesday the U.S. would spend less on health care with his plan. Here's a look at his claim and the facts.
From Memorial Day to Labor Day, Americans will travel and have to deal with 19 bouts of hunger, 16 "are we there yets," 18 "how much longers" and 17 "I'm tireds."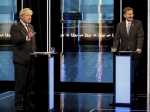 Contenders Boris Johnson and Jeremy Hunt both say they will break the country's political deadlock over Brexit, take Britain out of the European Union, boost the economy and bring a divided country back together.
Nine percent of Americans have been on vacation without their partner and lied to them about it.
If this basketball thing doesn't work out for Brad Stevens, he already has a backup plan in mind.