Report: Gay Sex Scene in 'Rocketman' Could be Cut for PG-13 Rating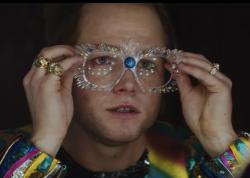 The Daily Mail is reporting that execs from Paramount Pictures are demanding Dexter Fletcher, the director of the Elton John biopic "Rocketman," and producer Matthew Vaughn cut a 40-second gay sex scene to score a PG-13 rating.

The scene reportedly shows actor Taron Egerton, who plays the pop star in the 70s, and costar Richard Madden, who plays John's then-lover and manager John Reid, rolling around in bed together. The Daily Mail claims the scene is "tastefully done" but shows the actors' butts.

Paramount apparently wants the scene nixed in order to get a PG-13 rating in America.

"Two guys have a naked cuddle to express their love for each other and that will be reduced to a fully dressed warm hello. The world knows Elton's gay. It's no secret," a source who worked on "Rocketman," told The Daily Mail.

The report comes after the Queen and Freddie Mercury biopic "Bohemian Rhapsody" came under fire by some who said the biopic straight-washed Mercury's queerness. Nevertheless, the film went on to win four Academy Awards, including Best Actor for Rami Malek, who played the rock and roll frontman. It should be noted that director Bryan Singer was fired from "Bohemian Rhapsody" with two weeks left of shooting and Fletcher was brought in to complete the film, though Singer still got a directing credit.

Earlier this week, Paramount hosted a preview party for "Rocketman," debuting 15 minutes of the film at the Troubadour in Los Angeles, the rock club where John made his U.S. debut nearly 50 years ago, Variety reports. The newspaper also notes the straight-washing criticism "Bohemian Rhapsody" received and writes: "How far 'Rocketman' goes isn't clear from Monday's preview except for a glimpse at a flirtation between the singer and his future boyfriend and manager John Reid (Richard Madden). Egerton did tell MTV News in November that the two share a love scene together and predicted the LGBTQ community will whole-heartedly embrace the movie."

A report from Vanity Fair notes that the short preview for the movie is getting early buzz.

"Rocketman," which also stars Jamie Bell, Bryce Dallas Howard and more, hits theaters in the U.S. on May 31. Revisit the trailer below.



Comments on Facebook