The film's atmospherics might avoid creepy cliches, preferring pit-of-the-stomach dread over jump scares or phantasms, but its plotting has a formulaic feel.
Movies like this one are inevitable in times of great existential uncertainty, and a necessary expression of remembrance and defiance.
When a rich quadriplegic hires a witty ex-con as his life auxiliary, they both teach each other "The Upside" of their circumstances.
She first saw the play as a child, when her famous father adapted it from a Henry James novella and played the male lead. Decades later, Vanessa Redgrave acted the role of Miss Tina on stage.
The long-gestating Aretha Franklin biopic "Respect" is going ahead with stage director Liesel Tommy set to direct.
"Green Book" screenwriters never consulted Don Shirley's family when writing the script.
Jake Gyllenhaal like you've never seen him before!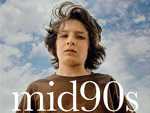 An admirable debut film by actor Jonah Hill, "Mid90s" comes to Blu-ray in a modestly packaged release.
New to the Criterion Collection, the 1957 film "Forty Guns" stars Hollywood legend Barbara Stanwyck as a rebellious rancher named Jessica Drummond, who helms a posse of 40 riders in Cochise County, Arizona.
Sundance said Wednesday that a documentary about two boys who accused Michael Jackson of sexual abuse will premiere at its film festival later this month, while the Jackson estate called the film "just another rehash of dated and discredited allegations."