Top Story
Kristin Chenoweth is heading back to Broadway in November for a one-week engagement to celebrate her newest album, "For the Girls." EDGE spoke to the Tony-winning Broadwa...
1 thru 10 of 14037 Stories
Brad Pitt made the first move with James Gray.
Out filmmaker Todd Haynes is back with a new movie, the "Erin Brockovich"-ish thriller "Dark Waters," starring Mark Ruffalo and Anne Hathaway, which got its first trailer.
NewFest, one of the world's most venerable and respected LGBTQ film festivals, has announced that they will kick off the festival's 31st edition with the New York premiere of Mike Doyle's Manhattan-set ensemble rom-com SELL BY.
This provocative film is also a film-within-a-film that seems to blur the lines of what's going on in the lives of the actors filming the film while they're filming the film.
It's a joyous film that is like a breath of fresh air, and that deals with a same-sex marriage without resorting to heaviness or lapsing into cliched scenarios.
The veteran filmmaker Rosa von Praunheim dramatizes the true story of a German gay serial killer.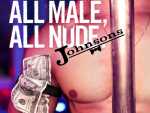 Hollywood portrayals of male strippers don't always depict real life, which is where filmmaker Gerald McCullouch comes in. He is back, shining a spotlight on some of South Florida's best male exotic dancers.
This documentary about The Lesbian Herstory Archives in New York details the archives' founding, its endurance through nearly half a century, and its successful mission to preserve lesbian history from a society determined to erase it.
This doc is the story of the once-highly-successful Israeli gay porn star who seemed hell-bent on self destruction.
"Last Ferry" is an interesting movie that will keep your attention from start to finish — if for no other reason than to see where it is going next. It doesn't offer much in terms of suspense, but as a character study there is plenty to unpack.
1 thru 10 of 14037 Stories