PopUps: Madonna Responds to Viral Photo of Her Butt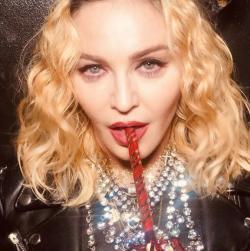 Madonna is responding to a viral photo that sparked rumors she got butt implants.

A photo of the pop icon circulated around social media this week, which caused a stir with many people discussing her backside. The pic comes from Madonna's surprise performance at the Stonewall Inn in New York City on New Year's Eve.





But the "Material Girl" is responding to the pic neither confirming nor denying any cosmetic procedures. In a selfie posted on Instagram she wrote, "Desperately Seeking No Ones Approval................... And Entitled to Free Agency Over My Body Like Everyone Else!! Thank you 2019! Its Going to Be an amazing Year!! ! #2019 #freedom #respect #nofear #nodiscrimination"

Either way, Madonna is a fan of her own butt, telling New York magazine's The Cut last year that she uses butt masks.

"I work out a lot and if you do mat work, you're always sitting so you can get dry patches," she explained. "It's kind of a no-brainer. You can take any face mask and try it on your behind. Skin is skin. I think people would want the skin on their butt to be smooth, glowing, and hydrated. I mean, I know I do. There are certain special people that get to see our butt and you want it to look its finest."





This story is part of our special report titled "PopUps." Want to read more? Here's the full list.
Comments on Facebook