1 thru 10 of 7088 Stories
Barbra Streisand elaborated Saturday on her highly criticized remarks about Michael Jackson, saying that she feels "nothing but sympathy" for the men accusing the late star of sexually abusing them.
Barack Obama is feeling the love about the engagement of Jennifer Lopez and Alex Rodriguez.
Hollywood's newest heartthrob Noah Centineo may have found his next role, playing the live-action version of He-Man.
"Game of Thrones" actress Emilia Clarke revealed Thursday that she has had two life-threatening aneurysms, and two brain surgeries, since the show began.
R. Kelly yelled through tears in a TV interview before an audience numbering in the millions, saying he's in a fight for his life to disprove sexual abuse charges. That fight will ultimately be waged in court, with an audience numbering just 12 jurors.
Not long after her split up from fiancé Christian Carino, Lady Gaga is getting close to actor Jeremy Renner, according to a report from Us Weekly.
Could Aunt Becky be headed to prison? It could go either way, experts say.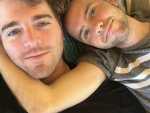 It's been a wild few days for YouTube star Shane Dawson.
Ben McKenzie is looking forward to his next career chapter after "Gotham," both on-screen and behind the camera.
Wendy Williams says she's living in a "sober house" because of addiction struggles.
1 thru 10 of 7088 Stories