1 thru 10 of 7617 Stories
A hearing Wednesday on the future of the court conservatorship that for 11 years has controlled the money and affairs of Britney Spears ended with no decisions made and no appearance from the pop star.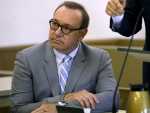 A massage therapist who anonymously accused Kevin Spacey of sexual misconduct has died, according to a notice filed in court by the actor's attorneys. The news comes ahead of the case going to trial.
Lady Gaga may have found her next role.
Love is in the air!
Comedian Sacha Baron Cohen asked a federal judge to dismiss Roy Moore's defamation lawsuit over a television segment that lampooned Moore in the wake of sexual misconduct allegations.
Actress Afton Williamson's claims of misconduct against her on the set of "The Rookie" weren't substantiated by an independent investigator, according to the ABC drama series' producer.
A forum on LGBTQ issues featuring the presidential contenders for next year's elections is set to be hosted by "Pose" star Angelica Ross.
"Jeopardy!" host Alex Trebek says he's had a setback in his battle with pancreatic cancer and is undergoing chemotherapy again.
Being a size 2 came in handy as Hecht was deciding on just the right red carpet look for her big night Sunday at the creative arts Emmys, to air Saturday on FX ahead of the main slate. She didn't win, but she had a ball picking out a dress.
To individuals who are not obese, it can be easy to assume that overeating is strictly a failure of willpower and discipline. However, evidence shows that body-shaming and weight discrimination are misguided approaches, and often make the problem worse.
1 thru 10 of 7617 Stories