Top Story
This list may seem a few months late but I consider the movie season to stretch from January through February of the following year — or until after the Academy Awards ceremo...
The 34th Film Independent Spirit Awards have a few things the Oscars don't: a host and female filmmaker nominees.
Across the U.S. and in many places abroad, transgender athletes are breaking barriers in high school, college and pro sports and being embraced by teammates and fans. But resentments can still flare,
Yalitza Aparicio, the Oscar-nominated, first-time actress in "Roma," is finding strong support among Mexican-American women who identify with her indigenous roots despite backlash she is receiving in Mexico.
Jackie Shane, a black transgender soul singer who became a pioneering musician in Toronto where she packed out nightclubs in the 1960s, has died. She was 78.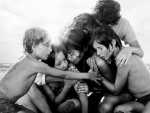 There are two things to know about the Oscars this year: the lead-up has been crazy and there is no clear cut winner for Best Picture. EDGE writers make their picks for who will win, should win and should have been nominated.