1 thru 10 of 1394 Stories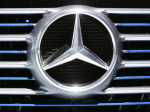 Automakers Daimler and BMW say that trustworthy handling of personal data will be a key competitive advantage in their new joint venture that offers app-based services like free-floating car-sharing in big cities.
On Tuesday, the last Volt was built with little ceremony at a Detroit factory that's now slated to close.
The Trump administration on Thursday broke off talks on vehicle mileage standards with California, increasing the chances of a court battle that threatens to unsettle the auto industry.
Many Americans count on their vehicles for outdoor pursuits, which is one reason why SUVs and crossovers have become so popular. But there are some critical differences between their handling, hauling and off-road capabilities.
The European Union on Tuesday reached a tentative agreement on the first specific EU standards for trucks, seeking to get polluting CO2 levels down.
The European Union warned U.S. President Donald Trump Monday that the bloc will step back from a commitment to buy more American soybeans and liquid gas if European cars are hit with punitive tariffs.
Japanese carmaker Honda plans to close its car factory in western England in 2021, a fresh blow to the British economy as it faces its March 29 exit from the European Union.
Here are some of the most common car-shopping mistakes people make when buying or leasing a car. Avoid them and you'll have a better car-buying experience.
By Sunday, Trump's Commerce Department is expected to issue an opinion on whether auto imports endanger U.S. national security enough to justify such import taxes. Trump would then have 90 days to decide whether to impose them.
President Donald Trump is hailing a renaissance in U.S. auto manufacturing that has not happened. The industry is chugging along without the "massive numbers" of car companies that he says are setting up shop in the country.
1 thru 10 of 1394 Stories