Rage Monthly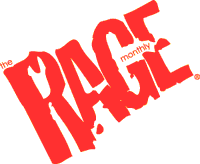 Check out Rage at ragemonthly.com.
Black Grace, founded in 1995 by Neil Ieremia, is one of those groundbreaking troupes filling the world's stages with dances that reach across social, cultural and generational barriers.
Lady Bunny is back in town and she's got a little "somethin'-somethin'" to fill your basket... and there's nothing PC about her bunny tales!
AB 1732 takes effect on March 1, 2017 and requires California businesses as well as any establishment open to the public, to designate existing single-user restroom facilities as "All-gender."
Tom Atwood's photography takes you inside the lives of LGBT Americans, over 350 of them across the nation, in a way that just simply hasn't been done before.
For the first time in their history, MenAlive is collaborating with the very talented SwingSet of Laguna, an award-winning, 18-piece jazz ensemble for their Spring concert.
"RuPaul's Drag Race" Season 9 is here. And the only way to explain the artistry of drag and who the queens are in this joyous, mad and delightful romp? To offer insights from behind the make up.
Like classic sculpture, his male images beg you to examine them: Beautiful, sensual, powerful and yet like those classic sculptures of antiquity, oddly chaste.
They say a picture is worth a 1,000 words. However, with today's smartphone choices, apps and selfie sticks it may be safer to say a picture is worth a lot less.
Here we are in 2017, more than 100 years after the 1911 of J.M. Barrie's play "Peter Pan," welcoming the musical "Finding Neverland" to California. Tom Hewitt, star of the touring production, chats about the play.
This brand new show, created for Lincoln Center's American Songbook series, has Charles Busch paying tribute through song and personal reminiscence to five extraordinary and much-missed women.